Live (in-person) Injection Courses
13 Different Injection Approaches:

Glenohumeral joint injection
Subacromial bursa injection (2 approaches)
AC joint injection
Medial/Lateral Epicondyle injection (tennis/golfers elbow)
Trochanteric bursa injection
Knee joint injection (4 approaches)
Trigger Point injection- lumbar paraspinous muscles
Synovial fluid analysis
Viscosupplementation knee injection discussion
Ultrasound guided knee injection with optional hands on lab
Plenty of Hands On Practice for each injection discussed included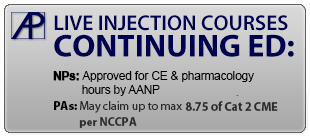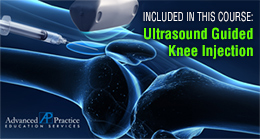 Attend the injection course NPs, MDs and PAs across the country are talking about!
"This course was much more than I had expected! What I learned at this course I will be able to carry with me my entire career- Thank you"-
T. Twitty, NP-C.
"Excellent clinically significant course. I acquired new skills and improved my present skills"
T. Brashear, FNP-C
"Awesome"-
FNP-C
3 Different learning options available:
- Live Course only: $699
(Price includes course syllabus, breakfast, lunch and hands on injection lab. No ultrasound station. )

or

- Live Course with Online Refresher: $749 (Includes 30 day access to online injection course and videos to refresh your learning experience after you attend Live course. No ultrasound station.)

or


- Total Package: All the above PLUS the Hands-on Ultrasound Guided Knee Injection Station: $1199
* Must Select this option to practice with the ultrasound at the course
* Ultrasound guidance will be used for knee injections only
---
Attending this course you will gain the confidence needed to expand your services and career opportunities! - W.R, FNP-C
| | |
| --- | --- |
| | |
Next Live Course
Bismarck, ND- Injection Course
Date: 8/25/2018
Time: 8:00 AM - 6:00 PM
Where: Bismarck, ND


Courtyard Bismarck North 3319 North 14th Street Bismarck, ND 58503 701-223-6667




Room block available using 'Advanced Practice Injection Course' up to 30 days prior to date.




3 DIFFERENT COURSE PRICES TO FIT YOUR BUDGET AND LEARNING NEEDS- CLICK DOWN ARROW FOR PRICES/OPTIONS
Max 30 attendees- PLENTY of hands on training including our NEW Ultrasound Guided Knee Injection Station which is optional.
ALL ATTENDEES WILL HAVE HANDS ON TRAINING ONLY THE ULTRASOUND STATION IS AN EXTRA COST




NPs: 10 CE hrs approved includes 2 pharm hrs by AANP. PAs: 10 hrs of Cat 1 CMEs by AAPA




See Policies for Cancellations





*More locations and Dates coming!








<< PURCHASE LIVE COURSE:

Atlanta, GA- Injection Course
Date: 9/8/2018
Time: 8:00 AM - 6:00 PM
Where: Atlanta, GA


Courtyard Atlanta Midtown/Georgia Tech 1132 Techwood Drive NW, Atlanta, GA 30318-7814, (404) 607-1112




Room block available using 'Advanced Practice Injection Course' up to 30 days prior to date.




3 DIFFERENT COURSE PRICES TO FIT YOUR BUDGET AND LEARNING NEEDS- CLICK DOWN ARROW FOR PRICES/OPTIONS
Max 30 attendees- PLENTY of hands on training including our NEW Ultrasound Guided Knee Injection Station which is optional.
ALL ATTENDEES WILL HAVE HANDS ON TRAINING ONLY THE ULTRASOUND STATION IS AN EXTRA COST




NPs: 10 CE hrs approved includes 2 pharm hrs by AANP. PAs: 10 hrs of Cat 1 CMEs by AAPA




See Policies for Cancellations





*More locations and Dates coming!








<< PURCHASE LIVE COURSE:

Philadelphia, PA- Injection Course
Date: 11/17/2018
Time: 8:00 AM - 6:00 PM
Where: Philadelphia, PA


Courtyard Philadelphia Airport 8900 Bartram Ave, Philadelphia, PA 19153 (215) 365-2200




Room block available using 'Advanced Practice Injection Course' up to 30 days prior to date.




3 DIFFERENT COURSE PRICES TO FIT YOUR BUDGET AND LEARNING NEEDS- CLICK DOWN ARROW FOR PRICES/OPTIONS
Max 30 attendees- PLENTY of hands on training including our NEW Ultrasound Guided Knee Injection Station which is optional.
ALL ATTENDEES WILL HAVE HANDS ON TRAINING ONLY THE ULTRASOUND STATION IS AN EXTRA COST




NPs: 10 CE hrs approved includes 2 pharm hrs by AANP. PAs: 10 hrs of Cat 1 CMEs by AAPA




See Policies for Cancellations





*More locations and Dates coming!








<< PURCHASE LIVE COURSE:

Phoenix, AZ- Injection Course
Date: 12/8/2018
Time: 8:00 AM - 6:00 PM
Where: Phoenix, AZ


Courtyard Phoenix Camelback 2101 East Camelback Rd Phoenix, AZ 85016 (602) 955-5200




Room block available using 'Advanced Practice Injection Course' up to 30 days prior to date.




3 DIFFERENT COURSE PRICES TO FIT YOUR BUDGET AND LEARNING NEEDS- CLICK DOWN ARROW FOR PRICES/OPTIONS
Max 30 attendees- PLENTY of hands on training including our NEW Ultrasound Guided Knee Injection Station which is optional.
ALL ATTENDEES WILL HAVE HANDS ON TRAINING ONLY THE ULTRASOUND STATION IS AN EXTRA COST




NPs: 10 CE hrs approved includes 2 pharm hrs by AANP. PAs: 10 hrs of Cat 1 CMEs by AAPA




See Policies for Cancellations





*More locations and Dates coming!








<< PURCHASE LIVE COURSE: