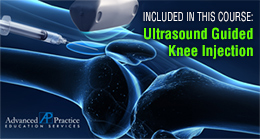 Attend the injection course NPs, MDs and PAs across the country are talking about!
"This course was much more than I had expected! What I learned at this course I will be able to carry with me my entire career- Thank you"-
T. Twitty, NP-C.
"Excellent clinically significant course. I acquired new skills and improved my present skills"
T. Brashear, FNP-C
"Awesome"-
FNP-C
3 Different learning options available:
- Live Course only: $699
(Price includes course syllabus, breakfast, lunch and hands on injection lab. No ultrasound station. )

or

- Live Course with Online Refresher: $749 (Includes 30 day access to online injection course and videos to refresh your learning experience after you attend Live course. No ultrasound station.)

or


- Total Package: All the above PLUS the Hands-on Ultrasound Guided Knee Injection Station: $1199
* Must Select this option to practice with the ultrasound at the course
* Ultrasound guidance will be used for knee injections only
---
Attending this course you will gain the confidence needed to expand your services and career opportunities! - W.R, FNP-C